It is the year 2019, and we still grapple with what the purpose of education is. We see talented yet unsuccessful people and unrewarded geniuses. In all, we have a world full of educated derelicts. It is time that one understands that the goal of education is not to increase the amount of knowledge but to create the possibilities for a child to invent and discover, to create men who are capable of doing new things. Education is not just about going to school and getting a degree. It's about widening your knowledge and absorbing the truth about life.
The Brothers of St. Gabriel, a worldwide Catholic religious order, founded in France in 1705 by St. Louis Marie De Montfort, is devoted to education and philanthropic activities. They understand that education is not just a bunch of degrees stacked to the side of your name. Real education enhances the dignity of a human being, increases their self-respect and makes life in harmony with all existence. Since 1901, the congregation has been operating many educational institutions in Thailand.
The Birth of ABAC
Assumption Commercial College was one such educational institution that was established in 1969. In 1972, with the approval of the Ministry of Education, it was officially established as Assumption Business Administration College or ABAC. In May 1975, it was accredited by the Ministry of University Affairs. In 1990, it was granted new status as "Assumption University" by the Ministry of University Affairs.
Today, Assumption University is an international community of scholars, enlivened by Christian inspiration, engaged in the pursuit of truth and knowledge, serving the human society, especially through the creative use of interdisciplinary approaches and cybertechnology. The university has 4 campuses in different locations in and around Bangkok city- Huamak near Rajamangala Stadium, City Campus located at Central World Plaza in downtown Bangkok, Suvarnabhumi areas of Samut Prakan Province, and ACC School of Commerce (Sathorn Campus), Thailand. The university is currently led by Rev. Bro. Bancha Saenghiran, F.S.G., Ph.D, who is also the President.
With globalization and an increased demand for multi-lingual communications experts, the University's Faculty of Arts encourages specialization in business English, Chinese, Japanese and French language programs; the Faculties of Law and Risk Management also contribute to the international education of its business students. The growing demand for Information Technology, has inspired the university to develop and foster the expansion of its highly respected Faculty of Science & Technology and Faculty of Engineering.
Courses Offered
Currently, the university offers 70 programs of which 38 are Bachelor's Degree Programmes, 19 are Master's Degree Program and 19 Doctoral degree programs. It is notable that the university offers 27 Bachelor's, Master's and Doctoral degree programs in information technology / Engineering fields alone. A range of additional undergraduate degree programs serves to round out the University's appeal in the fields of Nursing Science, Communication Arts, Biotechnology, law and Architecture. In the area of postgraduate studies, advanced studies are also offered in the fields of Counselling Psychology, Philosophy, Education, Religion, Tourism Management, English Language Teaching, Biotechnology and International Business Law.
In addition, the university has also other institutions and research centres like PAN AM International Flight Academy, Tsinghua – ABAC AEC Research Institute, Institute for Research and Academic Services (IRAS) and Confucius Institute. Assumption University has several joint degree programs that allow students to study partially at the university and then to complete their degrees at a western university. The degree, awarded by the western university, is thus obtained at a substantially lower cost than having studied at the overseas university full-time.
Joint Degree Programs
The university currently has 9 Postgraduate joint degree programs and 1 Bachelor's degree program and is exploring others. Assumption University has recently endorsed additional joint degree programs with colleges in India, especially in the areas of Information Technology and business. These agreements permit Indian students to study partially at their home institution and then come to Assumption to complete their degrees.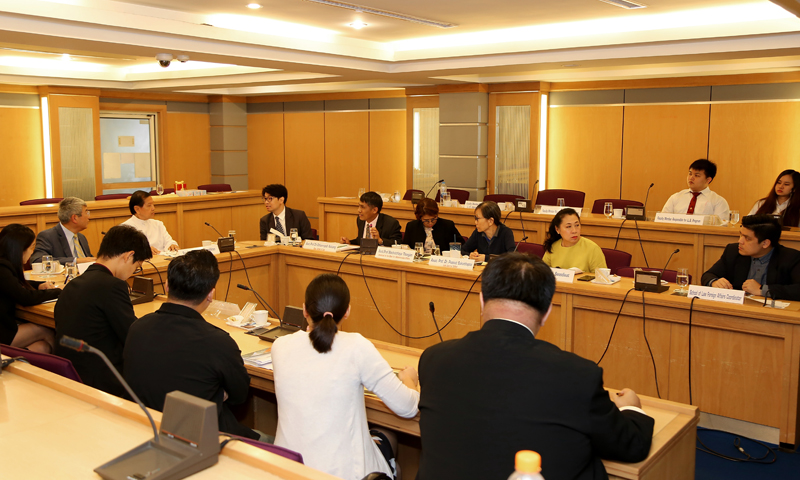 Assumption University is accredited by OHEC (Office of Higher Education Commission), Thailand and ONESQA (Office for National Education Standards and Quality Assessment). The University is also recognized by The Association of Christian Universities and Colleges in Asia (ACUCA), The Association of Southeast Asian Institution of Higher Learning (ASAIHL) and The International Federation of Catholic Universities (IFCU).
Fruitful International Connections
Assumption University is known as the First International University of Thailand with both a large international student body as well as an international faculty. Students from more than 55 nations around the world attend Assumption university because of its academic excellence and the fact that English is the medium of instruction. It is the only University in Thailand where all courses (except law) are taught in English by a faculty that is approximately 50% non-Thai.
Assumption University provides an international learning environment with nearly 3000 of its 20,000 full-time students coming from more than 90 nations around the world and international instructors bring with them a wealth of multi-cultural experience and education from more than 30 different countries. The University has a growing number of partnerships with institutions from the United States, the United Kingdom and Australia. With relationships involving faculty exchange, visiting professors, student exchange and joint degree programs, Assumption University also offers enhanced educational opportunities, which add to the international experience of the students.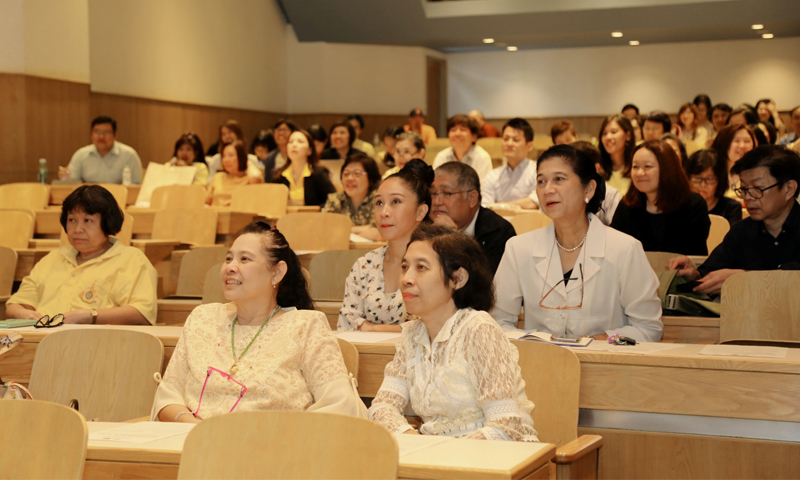 The coat of arms of the Brothers of St. Gabriel, which is the university's logo, is shown and engraved on many places but the biggest and noticeable one is on the wall at a stairway in the Hall of Fame. It depicts four signs with meaningful content: the ship in the sea symbolizing the sea of life with difficulties that we have to struggle through; the DS Cross which represents Divinity and Science; A.M. and the white lilies to remind students to love their institution as their Alma Mater and be as pure in their thoughts, words and mind as the white lilies; and the star and the boat which symbolizes spiritual hope. The four symbols are framed by a shield under which is AU's motto "LABOR OMNIA VINCIT", which, as the Latin proverb says, "Work conquers all things.
Welcoming Freshers Through AU FYEP
Every year, Assumption University holds an AU FYE program that prepare and support the freshmen to their new chapter in the university.  The main purpose of AU FYEP is to develop students' awareness in five areas i.e. academic and intellectual competence, interpersonal relationship, identity and integrated philosophy of life, career and life-style, and personal health and wellness through various initiative activities which will help them successfully live and learn during the first year of university life at Assumption University.
AU FYE program objectives:
To assist first- year students to make a successful transition from high school to the university.
To provide essential knowledge and skills for studying and living in Assumption University.
To develop students' awareness in five areas namely academic and intellectual competence, interpersonal relationship, identity and integrated philosophy of life, career and lifestyle, and personal health and wellness.
To establish a strong connection between freshmen and seniors; and to become active members of Assumption University community.
The Assumption University library was established around the year 1972 with just 2 classrooms on the 2nd floor of the St. Philips and Bernard building. Today, Assumption University has 3 libraries: The Central Library, "Cathedral of Learning Library", located at Assumption University, Suvarnabhumi Campus, "St. Gabriel's Library" Library, and "Law Library" Library located at Assumption University SUMMARY Huamark Campus.
Helping Choose the Best Career
Assumption university has an inhouse Career Development Centre (CDC) that provides students (and recent graduates) with advice, information and on-campus services regarding full-time and part-time employment, career planning and development. Services and activities of the CDC include Job Placement, Career Resources and Company introductions. Career Week is a popular on-campus recruitment event organized every semester, providing opportunities for graduating students to meet with the recruitment officers of over 100 leading local and multinational companies and personally apply for job offerings. Career Week usually takes place in the week following mid-term exams.
Individual Counselling and Testing are available through the CDC with job searches tailored to individual student interests. In addition, the CDC provides aptitude testing to help students understand how their abilities and interests can best be matched with suitable careers. The CDC also hosts events like Alumni Advisor Meetings, where the students get a chance to meet alumnae (who occupy key management and technological positions in industry, government, banking and multi-national conglomerates) and get first-hand advice on career goals and direction, Company field trips, and other job-related activities.
The Alma Mater of Prodigies
Given the steps that the university has taken to ensure that the students are shaped into versatile individuals, it is no wonder that Assumption University is considered the leading private University in Thailand. Moving forward, the university intends to keep setting milestones and help students realize their true potential.
Related Articles